Advertisements


Sawasdee krap, last summer, I stayed in Italy for 3 weeks. I went to visited Lake Como, Bologna, Florence, Tuscany tour and Milan. I took a train to Florence from Milan after stayed in Como for 2 weeks. In past, I had visited Rome and Venice. Both were great place to visit. I like more in Venice it all historic place with water ground and use a boats wandering around. Upon arrived at Florence and walk on foot to the hotel without taking a taxi. I stayed there for 4 nights. I had been sightseeing some places in the area and I ate a Chinese food, some Italian food and Turkish kebab. Next day I went to visited Bologna and see my friend from USA in bowling centre. I only stay inside the bowling centre. 2nd day the weather got worse and going to purchase a Tuscany tour on 3rd day when the weather was good. I walked around in the Florence and back to hotel to rest and sleep early. 3rd day I woke up and walked to the train station where the tour person with a sign board 'Tuscany Tour' I hopped on a bus and ready to ride on the Tuscany area. The tour group visited the Siena, Tuscany countryside. San Gimignano and Pisa. The last stops was Pisa. After a long day on tour, I went back to hotel and packed for return to Milan on train the next day. I stayed in Milan for 2 days and visited just one place because I already been before in my past years. 28th August, I took an airport bus to the airport. Last year I took a Malpensa express train to the airport. I arrived and long walk to the AA counter. After cleared from the AA counter, one staff accompany me to the security checkpoint. We made into premium lines coz the flight begun board soon. We made a long walk the gate and at the gate the AA staff asked me questions. I cleared the gate and boarded first from the long lines. I sat on my seat at AA B767-300 and greeted the AA Italian cabin crew. The couple sat beside me and asked me to move the seat. I told him I stayed my seat. The couple found two empty seats and moved into two empty seats. The plane begun to pushback and ready to takeoff. When the plane after takeoff, en-route to JFK.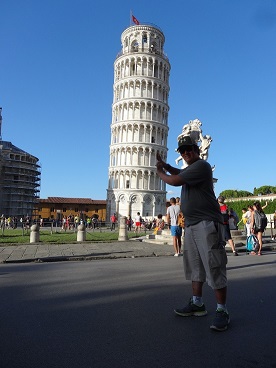 My Florence video: https://www.youtube....h?v=F2mwGQWlKd0
My Tuscany Tour video: https://www.youtube....h?v=aEo7be9bYOM
The flight was nothing special and there were no seatback TV. Only a screen in the centre. The meals were saap and good services. Upon arrived at JFK, my connection flight back to Seattle on B737-800.
AA 199 video: https://www.youtube....h?v=PuYLGmySBFA
During layover in JFK, I only are in McDonald rather than restaurant I ate three weeks ago. The flight to Seattle was begun and boarded on B737-800, The plane begin to takeoff and en-route to Seattle. I spelt on whole flight and just drank apple juice. Snacks were not free on the domestic flight.
AA 45 video: http://https://www.y...h?v=jMz9naWpihg
Upon arrived at Seattle in late evening, and rode back home. Overall flights from MXP and JFK were good.
My next travel is in winter to Asia.
What do you think of my flights review krap?
P.S. My apologized the pictures were small coz it is only 500KB krap *_*