ค้นหาข้อมูลท่องเที่ยวและการบินในเอชไฟล์ท เชิญด้านล่างนี้


1

Germanwings (A320) ประสบอุบัติเหตุตกบริเวณตอนใต้ของฝัรั่งเศส
Started by
conductor
,
Mar 24 2015 06:12 PM
Posted 24 March 2015 - 06:12 PM
---
Advertisements
Posted 24 March 2015 - 06:52 PM
(Reuters) - An Airbus operated by Lufthansa's Germanwings budget airline crashed in a remote area of southern France on Tuesday and all 148 on board were feared dead.
French President Francois Hollande said he believed none of those on board had survived.
"There were 148 people on board," Hollande said. "The conditions of the accident, which have not yet been clarified, lead us to think there are no survivors."
French media said there were 142 passengers and six crew on board.
Hollande said there was likely to be a significant number of Germans on the flight from Barcelona to Duesseldorf.
He added: "The accident happened in a zone that is particularly hard to access."
A spokesman for France's DGAC aviation authority said the airliner crashed near the town of Barcelonnette about 100 km (65 miles) north of the French Riviera city of Nice.
French accident investigators were heading for the crash site in Meolans-Revel, a remote and sparsely inhabited commune in the foothills of the French Alps.
Airbus said it was aware of reports about the crash.
"We are aware of the media reports," Airbus said on Twitter. "All efforts are now going towards assessing the situation. We will provide further information as soon as available."
Officials at Barcelona airport said the flight took off at 0855 GMT (0455 ET).
The crashed A320 is 24 years old and has been with the parent Lufthansa group since 1991, according to online database airfleets.net
(Reporting by Nicolas Bertin, Jean-Francois Rosnoblet and Sabine Siebold; Editing by Mark John and James Regan and Giles Elgood)



Germanwings airliner crashes in French Alps
14 minutes ago

From the section

Europe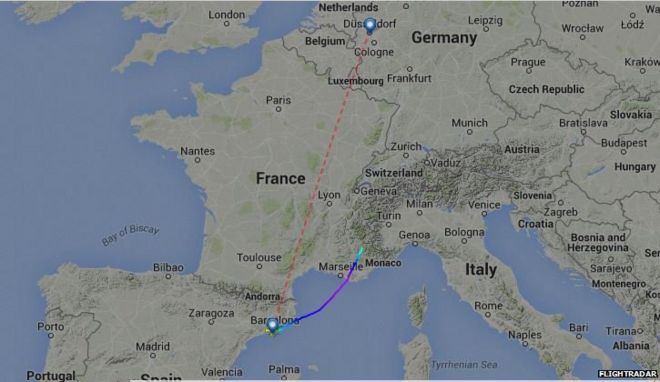 An Airbus A320 airliner has crashed in the French Alps between Barcelonnette and Digne, French aviation officials and police have said.
The jet belongs to the German airline Germanwings, a subsidiary of Lufthansa.
The plane had reportedly been en route from Barcelona to Dusseldorf and was carrying 142 passengers and six crew.
French President Francois Hollande said: "The conditions of the accident, which have not yet been clarified, lead us to think there are no survivors."
Mr Hollande said the crash was a tragedy and called for solidarity with the victims, adding that the area was very difficult to access.
Media caption
French President Francois Hollande described a plane crash as a "tragedy"
He said he would be speaking shortly with German Chancellor Angela Merkel.
The plane issued a distress call at 10:47 (09:47 GMT), according to sources quoted by AFP news agency.
Search-and-rescue teams are headed to the crash site at Meolans-Revels, said regional council head Eric Ciotti.
French Prime Minister Manuel Valls said he had sent Interior Minister Bernard Cazeneuve to the scene and a ministerial crisis cell to co-ordinate the incident had been set up.
The interior ministry said debris had been located at an altitude of 2,000 metres.
Both Airbus and Germanwings have said they are aware of the reports but cannot yet confirm them.
The Airbus A320 is single-aisle passenger jet popular for short- and medium-haul flights.
---
Posted 24 March 2015 - 06:54 PM
---
Posted 24 March 2015 - 07:02 PM
http://edition.cnn.c...rash/index.html
Story highlights
No survivors expected, French President Francois Hollande says
(CNN)A Germanwings Airbus A320 plane carrying at least 148 people crashed Tuesday in mountainous southeastern France, French Prime Minister Manuel Valls told reporters.
Valls said he fears those aboard the flight from Barcelona, Spain, to Dusseldorf, Germany -- 142 passengers and six crew members -- may be dead.
French President Francois Hollande also said no survivors were expected. The plane crashed near Digne les Bains, in the Alpes de Haute Provence region, Valls said.
"The conditions of the accident are not yet clear but lead us to believe there will be no survivors," Hollande said.
The crash happened at about 10:30 a.m. (5:30 a.m. ET) in mountainous terrain near the village Prads-Haute-Bléone, French police Capt. Benoit Zeisser said.
Because of the terrain, it will be a difficult site for rescuers to access, Zeisser said. A police helicopter is in the area, he said.
The twin-engine Airbus A320s, which entered service in 1988, is generally considered among the most reliable aircraft, aviation analyst David Soucie said.
The crash site would be nearly halfway between Barcelona and Dusseldorf. Crashes mid-flight are rare, as most happen near takeoff or landing, CNN aviation analyst Mary Schiavo said.
CNN's Laura Akhoun in Paris and Lindsay Isaac in London contributed to this report.
---
Posted 24 March 2015 - 07:20 PM
Crash: Germanwings A320 near Barcelonnette on Mar 24th 2015, lost height and impacted terrain
By Simon Hradecky, created Tuesday, Mar 24th 2015 10:54Z, last updated Tuesday, Mar 24th 2015 12:07Z
A Germanwings Airbus A320-200, registration D-AIPX performing flight 4U-9525 from Barcelona,SP (Spain) to Dusseldorf (Germany) with 142 passengers and 6 crew, was enroute at FL380 about 30nm southeast of Marseille (France) when the aircraft initiated a rapid descent. Radar contact with the aircraft was lost at about 6800 feet at approx. 10:45L (09:45Z) about 12nm southwest of Barcelonnette (France), 75nm northwest of Marseille.
French Police reported two helicopter spotted the remains of the aircraft on the ground between Prads-Haute-Bleone and Barcelonnette (France) at about 2700 meters elevation (8800 feet), about half way between the two cities there is a mountain ridge rising up to 8900 feet.
The President of France reported, it does not appear there are any survivors. The crash site is very difficult to reach.
France's DGAC reported the crew transmitted an emergency call just prior to the aircraft disappearing from radar near Bassinet.
Lufthansa, parent company of Germanwings, reported they do not yet know what happened to flight 4U-9525.
Radar data suggest the aircraft had reached FL380 about 3 minutes prior to leaving FL380 and descended from FL380 through FL110 in 8 minutes (average rate of descent 3375 fpm). The aircraft appeared to have levelled off at FL068 for one minute while on a northeasterly heading of 26 degrees true, mountains rise up to 8900 feet about 1nm north of the last reported aircraft position.
http://avherald.com/...=483a5651&opt=0
---
Posted 25 March 2015 - 03:06 AM
ขอแสดงความเสียใจต่อครอบครัวผู้โดยสารบนเครื่องครับ

---
Posted 27 March 2015 - 01:19 PM
หลายท่านคงได้ตามข่าวนะครับ ซึ่งตอนนี้หลักๆก็มุ่งเป้าไปที่การ จงใจดิ่งเครื่องของนักบินผู้ช่วย
ฟังแล้วเศร้าครับ คนเราเวลามันจะหลุดนี่มันหลุดกันง่ายๆขนาดนี้เลยรึ
---
---
0 user(s) are reading this topic
0 members, 0 guests, 0 anonymous users
ค้นหา ตั๋วเครื่องบินด้วยระบบ Galileo (แสดงผล waiting list)
ค้นหา ตั๋วเครื่องบินด้วยระบบ Amadeus (เแสดงเฉพาะที่นั่งว่าง)
ติดต่อเจ้าหน้าที่แผนก ตั๋วเครื่องบิน โทร 02-3737-555 / จันทร์ - ศุกร์ 09.00~18.00 น. // เสาร์ 09.00-16.00 น.